Pipe Camera can be used in different fields:waste water systems, storm water systems, pipelines of different kind, drains, ducts and other hard-to-see areas. Meanwhile these inspection cameras could save a lot of time, money and effort.
So it is a good tool for plumbers, contractors, inspectors, engineers, municipal workers and other professionals to inspect the areas.
WPS-715DJN-C23A is our popular model.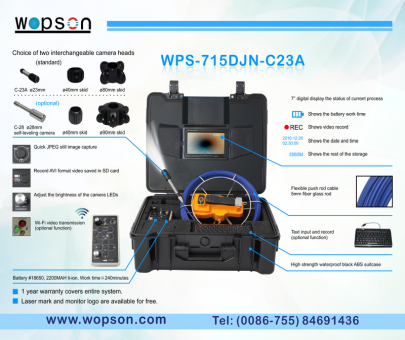 Features:
1.Camera head
*Φ23mm camera head
*12 PCS LED lights
*Stainless steel shell
*Sapphire glass
2.Cable wheel
*Fiberglass rod
*20m standard
*Φ5mm wire diameter
*Red/yellow/black/blue colors